Wide-N-Tall Rocking Chair
Rock steady through a quiet afternoon in your front patio, as you enjoy the comfort from the Portal sturdy camping rocker with your honey.
"
Here at Portal Outdoors, it's all about camping and adventure.
"
"
We offer all the practicalities and benefits camping gear can provide at an affordable, accessible price.
"
"
Amazing design, so you can spend less time comparing, and more time enjoying the great outdoors.
"



Smooth Rocking
A patented two-course rocking system gives perfect balance between steady movement and consistent back support. This camping rocker has a wider seat and can hold up to 300 lbs, so even larger people can enjoy a brisk rocking.
Side Organizer
This camping rocker has extra side organizer. Keep your supplies and valuables close by, so you can stay put as long as desirable.
Air Ventilation
With ideal ventilation, this oversized rocking chair will help you beat the heat so you can enjoy the outdoors longer. The carbon black and heather grey versions are great for warm weather and high moisture level. They both have a strong mesh layer to keep air flowing while supporting your torso.
Large Seat & Tall Back
This camp rocking chair is safe in and out. 20 inch seat height and 22 inch seat width provides plenty of room to adjust your sitting or to add your favorite cushion.
Quick Fold & Easy Travel
There is almost no assembly, and it only takes one person 10s to complete! Once you know the trick, you'll be amazed at its charming folded design! This camping rocker comes in a matching bag with a heavy duty carry strap; bring comfort everywhere.
Technical Spec
Unfolded Dimension
22.5" W x 18" D x 42" H inch
Folded Dimension
7" L x 7" W x 40" H inch
Frame
Powdered Coated Steel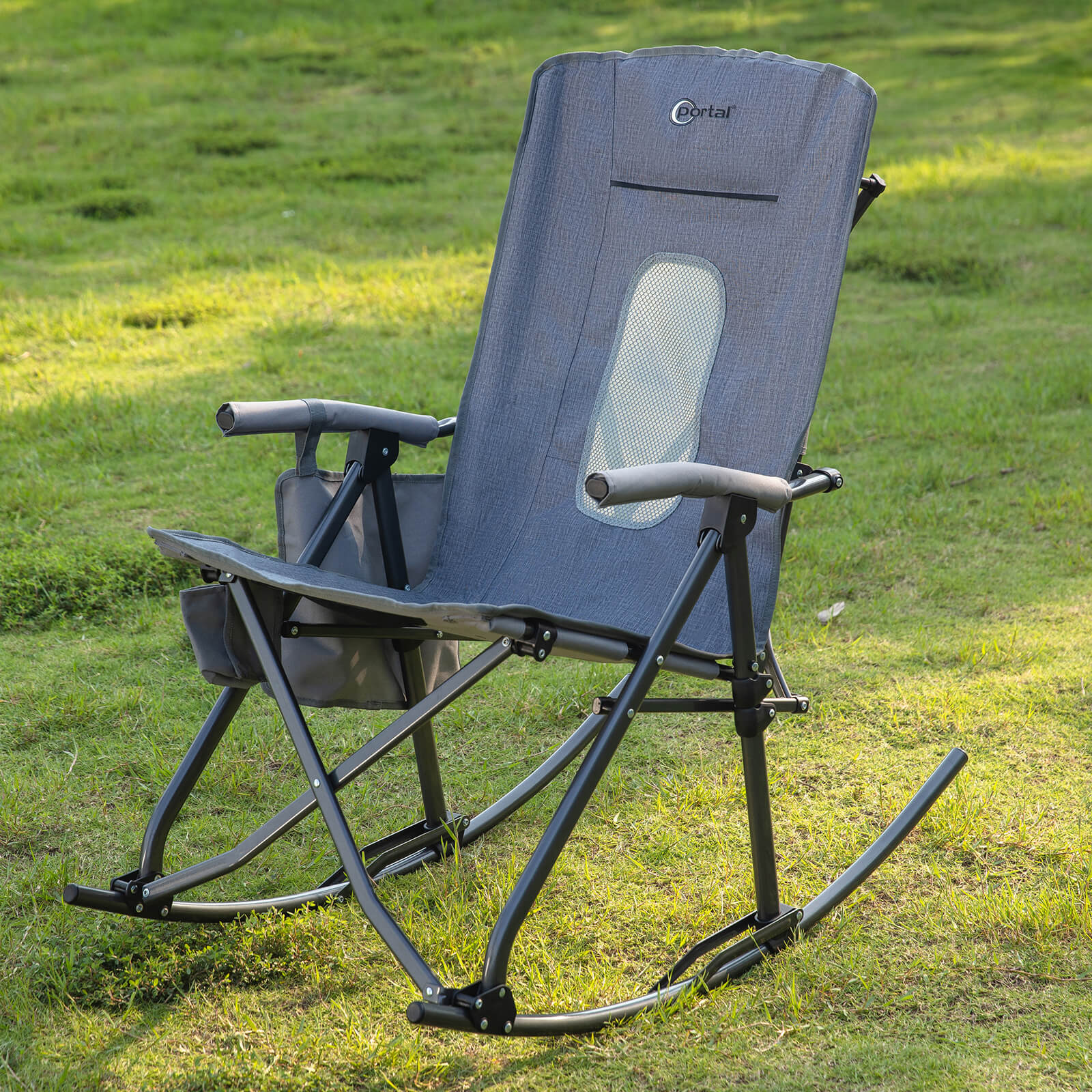 Frequently Asked Questions
 I love this rocking chair!!!
I am able to take it outdoors and open it easily by myself. Thank you for having such a great product.
Great service
Love my rocker. Use it for camping and fires outside at home. Easy to throw in the car and go.
 Perfect Camping Chair
"Lots to love about these chairs. I purchased 2 of the black with the mesh backing. Here are the highlights:
Pros:
1. Mesh back rest provides airflow so my back does not get sweaty!
2. Sturdy construction- I weigh 135 and am 5.4 and I am super comfortable. Hubby 5.7 145 and comfortable. I can see this being completely comfortable for any height/size. Lots of room and support.
3. Phone pocket in the front under the seat is genius. It can hide your phone at the beach if you step away, it keeps your phone from sitting in the sun and overheating and it's convenient!
4. Side pocket for storage. We are always Chasing the shade when we're camping. In my old camping chair that had a table on the side, every time I would move the chair I'd have to empty the table off because everything would fall. The side pocket is genius because everything is tucked away and you can move the chair quick and easy. Big enough to hold a water bottle in one pocket with smaller items in the other two pockets.
5. Lightweight- I can carry the chair anywhere. It's compact enough to save room and much better than the larger camping chairs.
6. The rocker is amazing. I love rocking and it's smooth.
7. Leans back enough to enjoy the stars at night.
Cons:
Folding the chair can be tricky at first. Once you know how, it's simple.
I would recommend this chair for sure! Plus it arrived the day after I ordered it just in time for a camping trip! Excellent chair for the price."
Wide an tall rocking chair
SO COMFY!!
With this camping rocker, you no longer have to "rough it" to enjoy camping! Enjoy the gentle movement back and forth as the sun sets. There's a small learning curve to the setup and takedown, but it's not too long before it all comes naturally. The chair in the bag is kinda heavy, not for hiking. This is definitely a car camping item or outside under the RV awning. The high back is not usually found with camp chairs, and is perfection! Thanks for a great product!
Designed, Built, and

Tested
In the Wild & For the Wild