8 Person Instant Camping Tent
Portal 8-Person Instant Tent for camping requires no special skills and can be easily set up by 1-2 people in less than a minute. All you have to do is just unfolding and extended.
"
Here at Portal Outdoors, it's all about camping and adventure.
"
"
We offer all the practicalities and benefits camping gear can provide at an affordable, accessible price.
"
"
Amazing design, so you can spend less time comparing, and more time enjoying the great outdoors.
"



Spacious Space
The instant tent for camping are fitting 2 queen air mattresses or 8 sleeping bags. The 78" center height provides a lot of room to move around. The spacious design provides plenty of space for an 8-person family car camping or campsites.
Breathable & Good View
The instant tent has 1 large mesh door, 5 mesh windows, and a mesh tent top designed to offer a great view and help improve air circulation in the tent.
Easy To Set Up
This Portal tent for camping requires no special skills and can be easily set up by 1-2 people in less than a minute. All you have to do is just unfold and extend.
Portable Design
There are several mesh pockets on the side of the outdoor tent, a gear loft on the top for storage, and a carabiner clip for hanging the lamp. It also includes a carry bag with a strap for easy transportation and storage.
Durable Material
The fabric of the family tent is waterproof. The detachable rainfly and the waterproof strip on the seam block the rainwater, then the material of the bottom is damp-proof, making the interior absolutely dry. The door can be rolled up while the attached detachable mud mat can be for placing slippers.
Technical Spec
Unfolded Dimension
12' D x 10' W x 78'' H
Folded Dimension
9.36'' D x 9.36'' W x 46.8'' H
Fabric
Taffeta and Polyester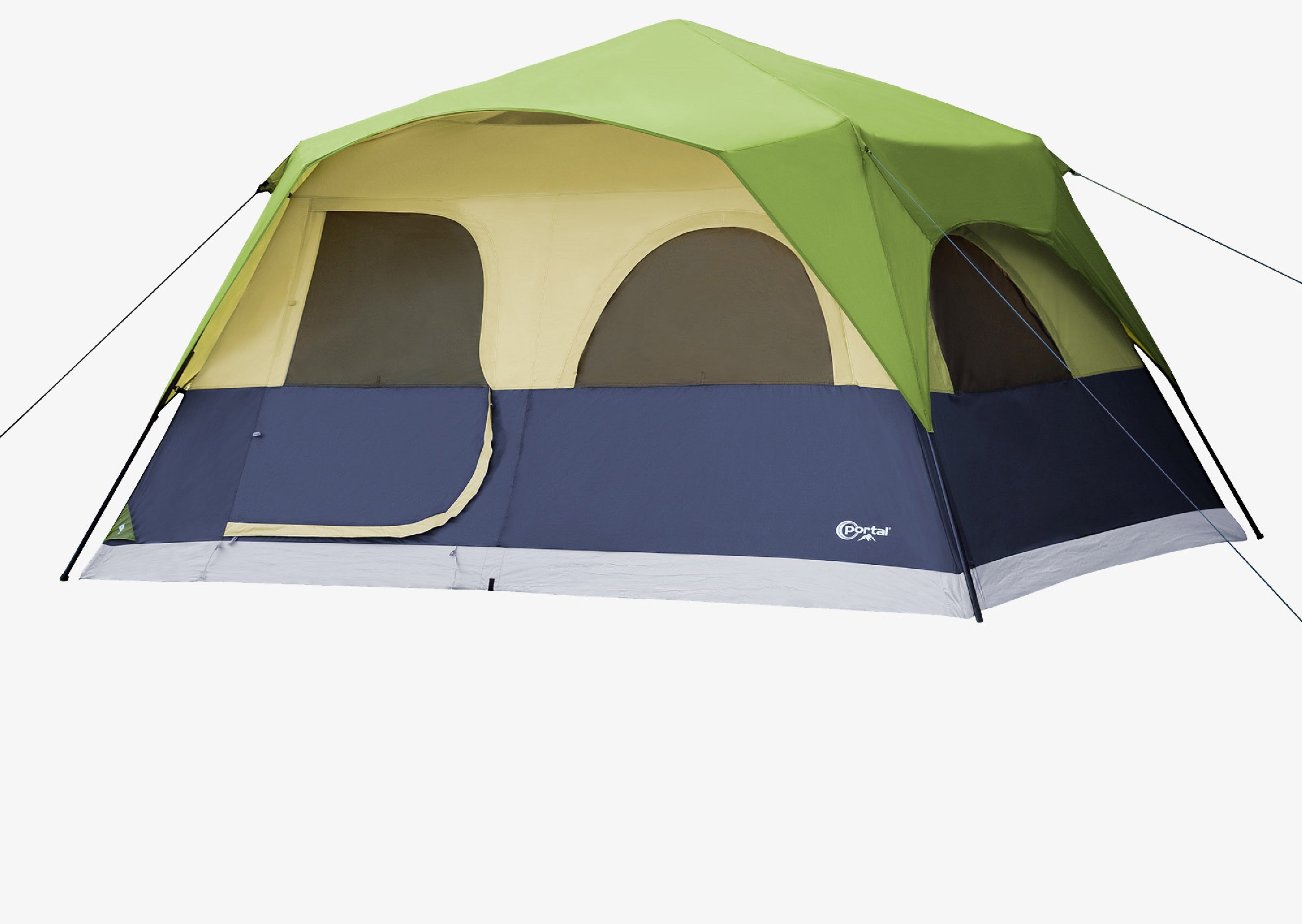 Frequently Asked Questions
 Incredibly easy setup
Light weight for an 8 person tent. Incredibly easy to set up. I set it up the first time alone in less than 5 minutes. I will be able to set it up next time in a couple of minutes or less after learning the routine. Very good center height inside. Packs up very compactly in a nice carry bag. Great quality. Takes up very little space when storing it. Highly recommend this tent.
 Well made quality tent.
"This tent seemed like exactly what we wanted. Lots of windows and ventilation even one in the door so there are 6 windows. Two in the back which the others I looked at didn't have. Also two gear bags and two extra bags sewn in with two pockets. Good sturdy poles, heavy duty floor, nice metal zippers.
It is not bright yellow but more a pale yellow or kinda light green on top. Which we really liked. We did not have rain so I can't speak to the waterproofing. My husband is 6 foot and could stand up in most of the inside area. The middle being higher. I am 5'3"" and could stand up even around the edges.
We were worried because so far only two people had reviewed this tent. My husband read up on the company and felt like they make quality products so we went for it. I'm so glad we did."
Designed, Built, and

Tested
In the Wild & For the Wild