Backpack Cooler Stool
When blazing the trails, every camper is a minimalist. With the Portal Backpack Cooler Chair, you can carry one less piece, but still have the large enough storage needed for supplies and essential gear.
Apply the code to get 10% off 
"
Here at Portal Outdoors, it's all about camping and adventure.
"
"
We offer all the practicalities and benefits camping gear can provide at an affordable, accessible price.
"
"
Amazing design, so you can spend less time comparing, and more time enjoying the great outdoors.
"



Action Ready Frame
Back frame of this backpack chair is upright to accommodate body movements such as turning sideways and leaning forward. If you think the seat is not big enough, put the backrest down as a cushion!
Easy Carry
Double-shoulder strap of this backpack stool is designed for convenient transport. Widely used for camping, fishing, tailgating and hiking. Just enjoy happy time when have any outdoor activities.
Multi-Functional Bag
The insulated cooler bag can keep your food and drinks cool. The storage backpack cooler which designed with cup holder and zipper pocket are great for collecting your little stuffs.
Quality Textile & Padding
Attached padded backrest provide great support for your back.  Folding chair backpack is covered with heavy-duty canvas allows for all-weather use.
Technical Spec
Unfolded Dimension
12.5''L x 29.5''W x 13''H
Folded Dimension
13.5"D x 14"W x 22"H
Seat Material Type
Fabric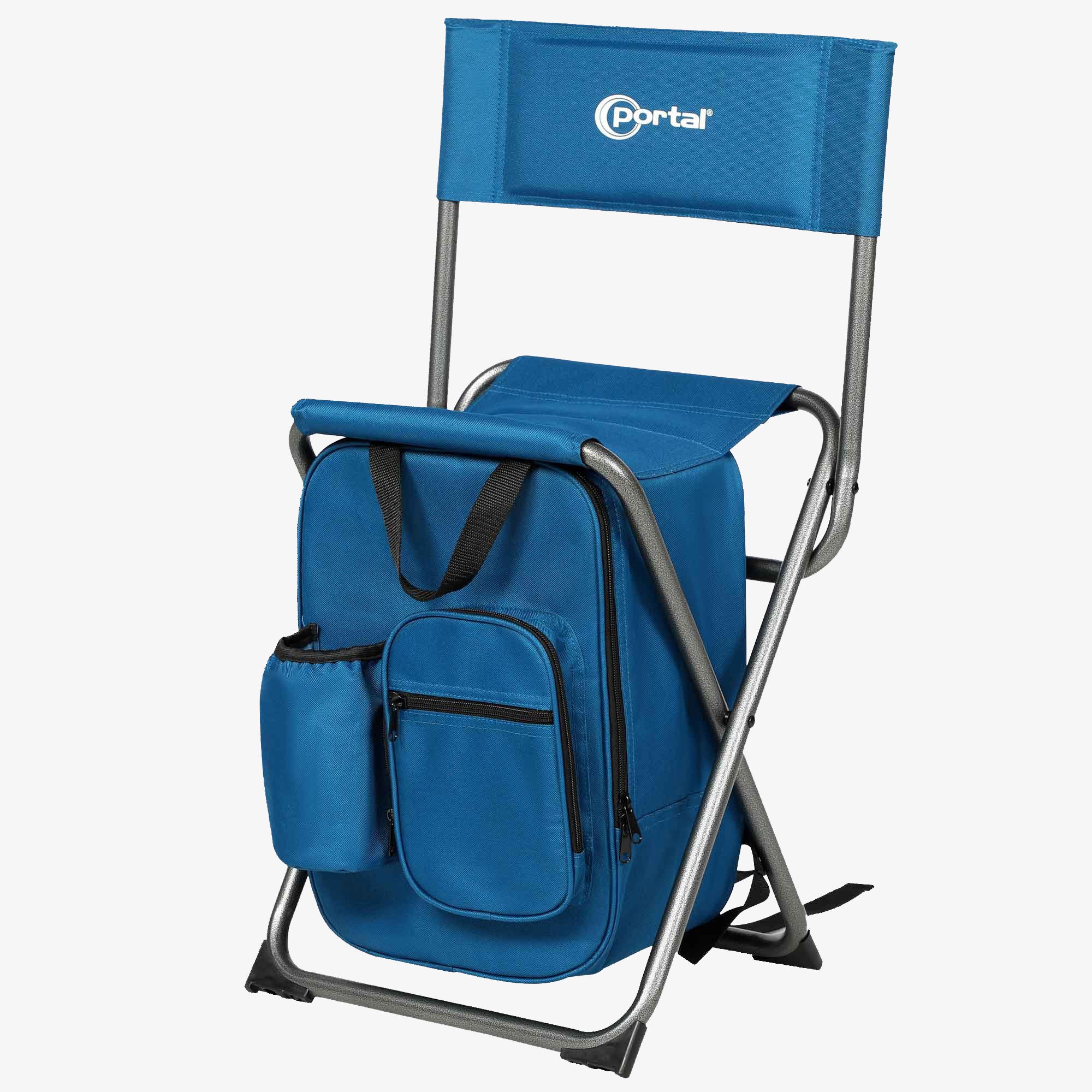 Frequently Asked Questions
 My husband loves it
Bought this for my husband for Father's day he goes fishing alot the benches at Battery Park have no backs and are far from his poles. Says it's comfortable sturdy can carry his hooks sinkers cooler keeps things cool. Definitely for the real Fisherman
 Chair backpack win
I am over the listed weight limit and it holds me just fine.. it's a little snug and not super comfortable. But it's 100 times better than the ground! I need this to go Frisbee golfing with my son, I don't get around as well as I should and frequently need to sit down, I wouldn't be able to get up off the ground as well as i do with this chair. It's a life safer on the course which has no seating. And great when we go creekin/hiking. It's multifunctionality beats out what it lacks in comfort.
 Great chair
I place my fishing lure containers in the bag portion and backpack to the pond. Have a place to sit while fishing. Meets my needs perfectly. Front of seat could use a little padding over the bar but works for me.
Comfortable, versatile, and catches attention
"This product is replacing a competing product in which the strap broke. My mom has a lot of medical appointments and on buses I get motion sick rear of a certain point. The Appointments allow me to be there because I can be seated in social distance from others while being close enough to assist my mom without having to rearrange the furniture. On the bus, the wheelchair seats are flipped up where non wheelchair users are unable to sit there, because of the virus. Unfortunately, because the industry standard is now the ""low floor vehicle"", the first 4 seats on the curbside and 3 seats on the driver's side are no longer there. With the floor lowered, the wheels prevent the installation and use of those 7 seats because on older buses with the higher floor, those seats are over top of the front tires. That means the only seats I can sit upon without vomiting aren't available. This backpack allows me to sit in the open space anyway and it allows me to do so in comfort! The back piece comes in handy on longer rides. My bad back no longer hurts after the same trip without A back piece.
This backpack has been sturdy, lightweight (to a point), and comfortable and I recommend it for anyone who needs to social distance and is wanting to decrease the number of surfaces that are common touch points because only you are touching it.
Moreover I have received more complements on the innovative design, the look of comfortable seating, and that they wish they had one, asking where I got it."
Did it's job, backrest was great for my back.
It did the job that I needed it to. Nice little chair with a backrest that I really appreciated when I used it.
Designed, Built, and

Tested
In the Wild & For the Wild